Special Hazards & Gas Detection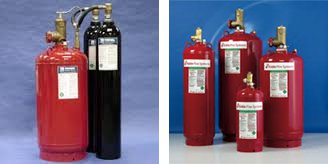 Special Hazards / Industrial Systems Division
The Special Hazards division is responsible for site survey, design, quotation and follow through of small to large projects throughout Atlantic Canada. We protect unique hazards that fall outside the realm of ordinary Fire alarm or sprinkler systems.
Our Sales and Design team are proficient in the specification and design of all suppression solutions, including: NOVEC 1230, FM-200, CO2, Inert Agents, Dry chemical; to name a few.
Special Hazards detection systems can range from versatile Protectowire linear heat detection, to cloud chamber type air aspiration systems (VESDA). Flame and spark detection systems are employed where detection needs a rapid response. As well, gas detection systems to monitor for flammable and/or explosive environments may be incorporated into the detection mix.
Our Engineering staff provides design assistance with all projects. Drawings are prepared on AutoCAD and supplied where required for installation and approval purposes.
As part of our commitment to service, operator training is provided, to ensure that our clients are prepared for any situation.
These are some of the companies we partner with: